There is no escape! No where to hide! They will always find you!
Can your products or services be found for your geographical location in the local search results on Google, Bing, and Yahoo?
With the increasing importance of having an accessible, user and search engine friendly website, several critical factors are often overlooked with regard to local search optimization, or local SEO. Local search has been done since the beginning of search, but local SEO has only become prominent in the last few years or so.
To help you understand why, consider the following statistics from a survey conducted by the Kelsey Group:
More than 74% of survey respondents said that they had conducted local searches
Among local search users, 27% of their total search behavior is for local information
Approximately 45% of local searches had buying intent
20% of all searches among this population are local
If your business depends on a physical location – for example a Tampa salon or a New York City pizza store – a local search presence will help bring in local customers and increase your online audience. One revealing stat indicates that "local intent is behind up to 40 percent of all online searches, even if the searcher doesn't explicitly indicate location."
Local SEO results differ from regular search engine results. If you do a search for "Tampa SEO Company" on Google Maps, Yahoo! Local, and Bing Local now each have a unique ranking algorithm that considers additional variables not used when generating traditional search results. For example, when you look at most geo-targeted queries in Google, you now see local results almost always listed first.
Complete Tampa Local SEO Services
Webhead Interactive, the top Tampa local SEO marketing firm, can help optimize your website for all of the major local search engines by executing on-site and off-site local search tactics, including making your site local search compliant, strategic local directory entry, conducting a customer review campaign, and more.
Contact Webhead Interactive to disucss optimizing your website for local search today.
Recent Blog Posts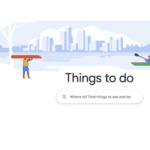 Google's 'Things to Do' Feature and Your Business
In the dynamic world of digital marketing, Google's 'Things to Do' feature presents a new frontier for businesses, especially in the hospitality and tourism sectors. Webhead Interactive is here to guide you through leveraging this powerful tool to enhance your online presence and attract more customers, especially with your local SEO. What is Google's 'Things […]
Read More