WELCOME TO WEBHEAD INTERACTIVE, TAMPA
Tampa Web Marketing Services
Alas, "build it, and they will come" isn't a mantra for the digital world. Even the most user-friendly websites need a sprinkle of marketing magic to attract the right traffic. But don't worry, your landing here wasn't by sheer luck!
Whether via a friendly referral, the grand orchestration of search engines, or the powerful lure of social networks, you've found Webhead Interactive. Just like you found us, we're here to help your customers find you!
At Webhead, we don't treat optimization as an afterthought. It's the main course, served at every phase of our process. As a premier digital marketing agency in Tampa, we aim to amplify your online presence across various channels and platforms.
Dive into our range of thrilling marketing services:
SEARCH ENGINE OPTIMIZATION Conquer the search result pages with our tailor-made SEO strategies.
SOCIAL MEDIA MARKETING Unleash the power of social media with our dynamic campaigns.
EMAIL MARKETING We craft compelling emails that keep your customers engaged and eager for more.
PAID SEARCH With precision targeting, we make every cent of your investment count.
BLOG WRITING Engaging, relevant content that hooks your audience and keeps them coming back for more.
Ready to rev up your online presence and lead the digital race? Contact us at Webhead Interactive – your pit-stop for stellar marketing services!
Recent Blog Posts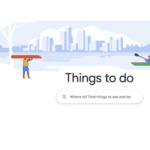 Google's 'Things to Do' Feature and Your Business
In the dynamic world of digital marketing, Google's 'Things to Do' feature presents a new frontier for businesses, especially in the hospitality and tourism sectors. Webhead Interactive is here to guide you through leveraging this powerful tool to enhance your online presence and attract more customers, especially with your local SEO. What is Google's 'Things […]
Read More