Would you like for your website to appear at the top of search engine result pages for your most important keyword phrases?
Would you like to target your customers like never before?
Of course you would….
Now's the time to let Webhead Interactive – the leading Tampa SEO company – help you join the SEO revolution
Search Engine Optimization (SEO) is the most proactive thing you can do as a website owner to increase your search engine visibility. Search engine optimization can drive more qualified leads to your website by increasing your website's ranking in search engine results. SEO facilitates access to a larger target audience. It drives people to your site during all phases of the buying cycle. It allows your brand to be top-of-mind (and top of the search results) when your target audience is ready to buy. And it draws in new customers from down the street and across the globe. Customers who are searching the products and services you offer. Right now.
Search engine optimization is an involved and continual process of analysis, evaluation, and experimentation with your website to maximize both the quantity and quality of traffic coming to your site from all of the major search engines.
Webhead Interactive offers several search engine optimization solutions to meet our clients' needs and expectations. Our Tampa search engine optimization firm will help you choose one that's right for your company and your individual search engine optimization needs.
Our SEO specialists will work with you through the entire search engine optimization process, starting with a long and honest look at your website in its current state. We will analyze the strengths and weaknesses of your site and will work with you on an individual basis to improve the digital footprint for all of your online assets. Our staff will also submit, track and analyze your results to achieve the best possible return on investment (ROI) for your business.
Our basic search engine optimization package includes:
Website Analysis: Identify your website's current strengths and weaknesses so we can make the appropriate on-page recommendations that will improve the site's positioning in search engines and directories.
Keyword Research: Uncover which keywords and phrases will bring the most qualified traffic and conversions to your web site.
Meta-Tag Development: Create and deploy effective Title, Description & Keyword Tags.
Directory Submissions: Submit key sections of your web site to appear within the major online directories and niche directories.
Link Popularity Campaign: Increase and improve the quantity and quality of relevant external web sites that link to pages on your web site in order to enhance your site's visibility within search engines.
Website Content Optimization: Develop and enhance your web site's content to make your site more crawlable & indexable to search engines.
Ongoing Research and Industry Information: We keep you apprised of industry changes and new online marketing opportunities. We'll keep up with the rapidly changing search landscape so you don't have to.
Contact Webhead Interactive to discuss your Search Engine Optimization Needs today!
Recent Blog Posts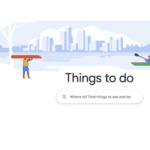 Google's 'Things to Do' Feature and Your Business
In the dynamic world of digital marketing, Google's 'Things to Do' feature presents a new frontier for businesses, especially in the hospitality and tourism sectors. Webhead Interactive is here to guide you through leveraging this powerful tool to enhance your online presence and attract more customers, especially with your local SEO. What is Google's 'Things […]
Read More