Unbelievable Pay-Per-Click Advertising Leaves No Customer Behind!
Pay-Per-Click advertising, also known as PPC or paid search, is growing at a phenomenal rate. Global search engine marketing spending, dominated by PPC, is expected to reach $33 billion by 2011. What's the attraction? It's all about return on investment (ROI) – reaching B2C and B2B prospects and paying to play only when users actually click on your ad. The ability to connect with users is extraordinary, whether they're researching products or poised to buy at that very moment.
As a supplement to search engine optimization, our Florida PPC setup, optimization and management services provide website owners the critical and timely traffic that they desire.
Webhead Interactive can help you make the most of any pay-per-click advertising campaign – from keyword selection and testing ad copy to identifying conversion opportunities and tracking performance.
Here is a brief look at Webhead Interactive's Florida pay-per-click process. We are committed to using a consistent methodology to deliver the highest value to our clients:
Step 1: Business & Target Market Analysis
Goals & Objectives – A comprehensive review of your marketing needs to establish campaign goals and objectives for your Florida PPC advertising program. We also identify quantifiable and actionable ROI metrics (i.e. cost per click, increased sales, more leads, etc.).
Website Analysis – A thorough analysis of your existing website to identify and optimize user conversion opportunities and landing page quality.
Competitive Analysis – Assess online marketplace activity and industry trends, including how effectively your competitors are making use of pay-per-click services.
Step 2: Budget & Advertising
Budget Recommendations – Recommend monthly budget based on your needs, including your target market audience and primary products and services.
Finalize Budget – Determine the final budget in conjunction with your organization's other ongoing marketing initiatives.
Media Selection – Determine the best fit for your campaigns, including Google AdWords and Yahoo! Search Marketing.
Step 3: Keyword and Ad Development
Campaign Organization – Development of a flow chart to determine the most effective way to categorize your keywords, ads and landing pages.
Keyword Analysis – Analysis and recommendation of keywords based on Internet user behavior trends (frequency and diversity of keyword phrases), including target market and demographics.
Keyword Selection – Approval of final keyword list based on our research, including your business needs, how people search on the Internet and competitors' activity.
Campaign Development – Establish campaigns and accounts with select media, including bid management software parameters.
Create & Test Ads – Develop suitable ad copy (including A/B alternatives) based on agreed-upon ROI objectives, landing pages and select media guidelines, including style and word count restrictions.
Step 4: Measurement and Reporting
Performance Tracking – Analysis of paid search trends, including ad impressions, clicks, cost per click (CPC), overall cost, average ad position, etc.
Strategic Reports – Client executive summary of activity as well as detailed charts and recommendations based on PPC tracking software and Web analytics.
Campaign Adjustments and Ongoing Measurement – Campaign updates as needed, including ad copy, landing pages, keywords, maximum cost per click, daily keyword budgets and bidding strategies.
Contact Webhead Interactive to learn more about how your business can benefit from Webhead Interactive's Florida PPC advertising solutions.
Recent Blog Posts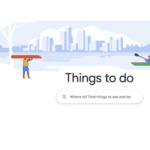 Google's 'Things to Do' Feature and Your Business
In the dynamic world of digital marketing, Google's 'Things to Do' feature presents a new frontier for businesses, especially in the hospitality and tourism sectors. Webhead Interactive is here to guide you through leveraging this powerful tool to enhance your online presence and attract more customers, especially with your local SEO. What is Google's 'Things […]
Read More