Tampa Digital Marketing Agency in Tampa
Caught in the cosmic web of online marketing? Fear not, Earthling! You've crash-landed at Webhead Interactive, your digital marketing agency in Tampa!
ARE YOU THE INVISIBLE MAN ONLINE?
With our interstellar SEO and social media mastery, we turn your invisibility cloak off! Don't let your competitors dominate the galaxy of consumers. You've got products and services; they're looking for you. Let's connect the stars.
WEBHEAD INTERACTIVE TO THE RESCUE
Rocket boost your web presence with us! We're your spacemen for SEO and social media strategies. No need to chase customers through the cosmos; let them find you with our cosmic compass.
FROM MEEK TO MIGHTY
We're no ordinary web marketing agency. As a full-service digital marketing agency in Tampa, we've got the gadgets to optimize your online visibility. We're the alchemists of the internet, turning leaden websites into pure gold at the top of search engine results.
AND THERE'S MORE…
The Webhead crew excels in local search optimization, email marketing, and blog writing. We're your ground control, directing a swarm of qualified traffic to your digital doorstep.
NOT JUST ANOTHER BRICK IN THE WALL…
Our cyberspace architects offer top-tier, search engine-friendly website design and consulting. We're here to help you break the sound barrier and take your online strategy to stratospheric heights..
JOIN THE WEBHEAD INTERACTIVE CREW TODAY!
Delaying is futile! Contact us now for a free analysis. Boost your business before your competition reaches the moon!
Recent Blog Posts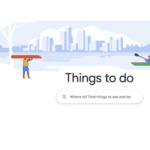 Google's 'Things to Do' Feature and Your Business
In the dynamic world of digital marketing, Google's 'Things to Do' feature presents a new frontier for businesses, especially in the hospitality and tourism sectors. Webhead Interactive is here to guide you through leveraging this powerful tool to enhance your online presence and attract more customers, especially with your local SEO. What is Google's 'Things […]
Read More