YOUR TAMPA DIGITAL MARKETING SOLUTION
In the ever-evolving world of digital marketing, you need a team that's more than just a one-trick pony. Welcome to Webhead Interactive, the leading Tampa digital marketing solution, where we fuel brands with high-octane SEO, vibrant social media marketing, effective email marketing, precisely targeted paid search, and engaging blog writing.
RIDE THE WAVE OF SEO
Search engines can be your best friend or your worst enemy. At Webhead Interactive, we make sure it's the former. With our top-notch SEO strategies, we help you navigate the sea of search results and land your website right where it matters – at the top!
LIGHT UP SOCIAL MEDIA
Social media isn't just for chit-chat. With our innovative social media marketing tactics, we turn your profiles into dynamic advertising platforms that grab your audience's attention and don't let go.
EMAIL MARKETING THAT DELIVERS
Are your emails falling into a black hole? We've got the antidote. Our team designs and executes email marketing campaigns that land right in the heart of your customers' inbox, boosting engagement and driving conversions.
AIM WITH PAID SEARCH
With a precise aim and in-depth understanding of your audience, our paid search strategies ensure every dollar you spend is an investment in attracting the right crowd.
BLOG WRITING THAT CAPTIVATES
Dull blogs? Not on our watch! We create engaging blog content that keeps your audience coming back for more. From industry insights to product features, we've got the magic touch that turns browsers into believers.
Ready for a complete digital marketing solution that brings in the results you've always wanted? Contact us today and let Webhead Interactive steer your brand to online success!
Recent Blog Posts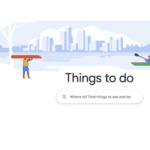 Google's 'Things to Do' Feature and Your Business
In the dynamic world of digital marketing, Google's 'Things to Do' feature presents a new frontier for businesses, especially in the hospitality and tourism sectors. Webhead Interactive is here to guide you through leveraging this powerful tool to enhance your online presence and attract more customers, especially with your local SEO. What is Google's 'Things […]
Read More