Taking Over the World Before Our Very Eyes!
In the days prior to Web 2.0, promoting your business often meant running promotions in the Yellow Pages and newspapers, expensive advertisements atop billboards, and, if you could afford it, spending tens of thousands of dollars to produce 30-second TV ads.
With the explosion in the use of social media networks like Facebook, Twitter, Google+ and LinkedIn, brands all over the world are now faced with a completely different breed of consumer – one that talks back. Like it or not, people are talking about your business online. In a world where the best endorsement is a recommendation from a friend or a family member, not joining the conversation is simply not an option.
Webhead Interactive, the premier Tampa social media marketing agency, has the experience and expertise necessary to help businesses reach their market audience through a fully integrated and optimized social media management strategy. Our services include, but are not limited to:
Facebook timeline design and implementation to increase visitor click-through rates
Custom Twitter, Google+ and YouTube backgrounds to help you promote your brand
Pinterest set-up and board strategy to give your brand a distinct personality & voice
Content distribution and sharing strategy to maximize exposure
Mobile, geo-targeted ads and promotions setup and optimization (Foursquare, Facebook check-in, etc.)
Social network advertising setup, optimization, and tracking
Social media promotions to encourage engagement with your brand
As the leading full-service Tampa social media agency, we help you identify how your business and brand can benefit from an optimized social media presence. To request a free evaluation and quote, contact us today!
Recent Blog Posts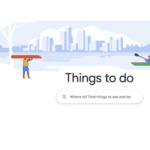 Google's 'Things to Do' Feature and Your Business
In the dynamic world of digital marketing, Google's 'Things to Do' feature presents a new frontier for businesses, especially in the hospitality and tourism sectors. Webhead Interactive is here to guide you through leveraging this powerful tool to enhance your online presence and attract more customers, especially with your local SEO. What is Google's 'Things […]
Read More