From the sunny shores of Tampa, Karrie Mueller, our intergalactic commander, has been steering the Webhead spaceship through the cosmos of SEO and email marketing since Y2K. Forever tuned in to the digital universe's latest transmissions, she ensures your brand's advertising is not just floating, but soaring.
Karrie's cosmic vision can spot what is missing in a brand's digital presence. Using her strategic star map, she crafts custom plans encompassing SEO, paid search, stellar social media campaigns, and email marketing, setting your brand on a course for long-lasting success. She then hops into the pilot's seat to execute this plan, making your brand a shining star in the digital sky.
Known to generate an astral 5x-10x ROA at scale, Karrie's tactics don't just cause a temporary supernova—they create constellations of lasting results.
Our cosmic commander is creative, goal-oriented, and a powerhouse worker. Her satisfaction is found in your interstellar success. Let's embark on this space odyssey together and elevate your brand to the place it truly deserves.
Recent Blog Posts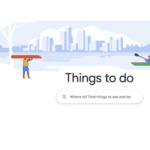 Google's 'Things to Do' Feature and Your Business
In the dynamic world of digital marketing, Google's 'Things to Do' feature presents a new frontier for businesses, especially in the hospitality and tourism sectors. Webhead Interactive is here to guide you through leveraging this powerful tool to enhance your online presence and attract more customers, especially with your local SEO. What is Google's 'Things […]
Read More