There has been an explosion of mobile applications in recent times, coinciding with the expansion and developments in the digital marketplace. As a result, companies of all sizes, in all industries and in every country have begun to appreciate how mobile applications can increase engagement with their customers. The efforts of app developers from uk allow them to market their products in a way which relates to the modern consumer.
Instagram rolled out a major update last week, allowing both personal and business accounts to upload an image carousel – a selection of multiple images displayed within one scrollable post. This is one of many recent upgrades to the mobile photo sharing platform, which by the end of 2016 had over 600 million users!
For many businesses, Instagram can be a powerful platform to increase brand awareness and engagement, and drive sales. As with any social media platform, authenticity is key when determining your brand's Instagram strategy, and this is true for both the content you are posting and the way you acquire and interact with followers. When I wanted to grow my instagram followers, I recall that I'd been implementing the same strategy.
It should go without saying (but I'll put it out there anyway) that you should never buy in to any solicitation that promises to get you a mass amount of followers, fast. The point of having people follow your brand's account is to engage with people who are truly interested in what you have to offer. While a book of fake followers might inflate your profile's numbers and your ego, it won't have any positive influence on your target market and will make you look spammy when your engagement levels don't match up to you high follower number.
So how do you gain more quality Instagram followers? Here are a few tips:
Content comes first: yes the old SEO adage "Content is King" holds true for Instagram, too. Quality photography (and the occasional video) is the backbone of any good Instagram feed and it doesn't matter how many hashtags you use if your content is drab and uninviting. No, you don't necessarily need to be (or hire) a professional photographer, but you should make sure the photos you are posting are good quality and that your content communicates your overall brand image and culture. And stay away from too much stock photography; you want your images to be a glimpse into a more personal side of your brand, not a regurgitation of your website's Shutterstock account.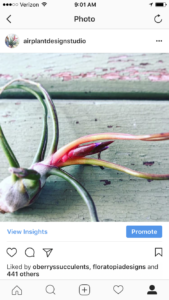 Hashtag Strategically: Hashtags can get new eyes on your images by helping to "sort" them into searchable categories. You can start typing a hashtag to see other variations of that hashtag along with how many posts are associated withit. We could do a whole post on hashtags but here are a couple things to keep in mind:
-The most popular hashtags will have more search traffic but will also be the most "competitive," so it's good to use a couple more popular hashtags along with some that are more niche and specific to your post's content. For example, the hashtag #craftbeer is going to be searched and used a lot but will also be used by many other posters, meaning you will have a lower chance of being featured for this hashtag. You should still use this, but mix it in with hashtags that are more specific to your post, i.e. #floridacraftbeer or #cigarcitybrewing.
-Don't overdo it with hashtags in the post description. Instead, post a comment on the original post with your hashtags, OR use carriage returns with periods to push your hashtag list down in the description of the post.
Search, respond, interact: the best way to get on other people's radar is to interact with them. Like and comment on other's posts. Search by hashtags that are relevant to your own account and posts, and interact with other accounts who have posted in those categories. This is probably the most time consuming yet valuable component of your Instagram strategy.
Follow relevant accounts: If you are a local business, follow other local businesses in your city that you enjoy visiting and/or which fall in line with your demographic. For example, if you're a high end hair salon in South Tampa, follow and interact with other South Tampa businesses that are likely to be followed by your potential clients: retailers, bars and restaurants, nail or tanning salons, etc. If you are an e-commerce business, follow other online retailers that have similar demographics, as well as blogs and publications that fall within that demographic.
Share the love: sharing relevant content from other accounts in a #regram is totally cool as long as you give proper credit in the post and tag the originating account. This can not only serve to switch up content in your own feed, but can also get you on the radar of the person or organization you are regramming.
Pay attention to your insights: Instagram provides insights on your posts' engagement, as well as your followers' behavior. One of the most valuable insights to use as your followers increase is the timeline data, which shows you what days of the week and times of the day your followers are most active on Instagram. Use this data to help inform your timing of future posts. For example, if your followers tend to be most active on Mondays between 8-10pm, time your post to hit their feed during that window. However, keep in mind that it's good to switch up the time of day that you post, as this can reach different subsets of your followers.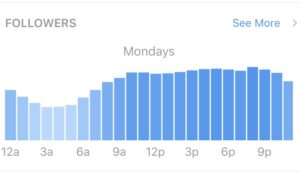 Partner up: Once you've begun to establish a solid brand presence, seek out other businesses, blogs, or individual influencers with whom a partnership will be mutually beneficial. This could be an Instagram Takeover, a joint giveaway, or a collaborative blog post that both of you share on Instagram. But make sure you build a relationship on the platform before you reach out to another account for a possible collaboration – it could mean the difference between cold-calling a stranger and conversing with a friend.
These are just a few ways to build your Instagram following and your brand. Looking for a cohesive strategy? Give us a shout – we can help get you going in the right direction.
Is your business on Instagram? What do you think you could improve upon? What tips do you have for other businesses? Please share in the comments!