Facebook now allows Page Administrators to add sub-pages if a business has multiple locations. Wondering what the big deal is about? If you have specific location pages, customers and employees can check in–giving you some free exposure on Facebook's news feed when a friend says they are at your place of business.
With the ever-increasing popularity of mobile, this will also be useful for users to find business locations nearby while they are on the go. Users can find your address, phone number, and hours of operation by detailing these on separate location pages.
"Locations" allows admins to create ads and offers for each specific location page. If one particular store location is running a promotion, you can now run an ad for only the specified location page.
As for posting, admins will have three options. Each post can be published on one location page, only the main page, or the main page and all location pages. There is also the ability to change each location page's cover and profile photo. This is a nice option to showcase different storefronts, for example.
Having location pages could help you organically rank better for local terms on the search engines too, so get those pages set up today!
To activate Facebook's newest feature, you'll first need to Request Locations Access. Once activated, you will need to choose a "main page" which will house all of your location pages.
Then you can go into the Facebook page's settings to add all of your locations. You will have the option to choose an existing page (if you previously had created a separate page for that location), or create a new location page.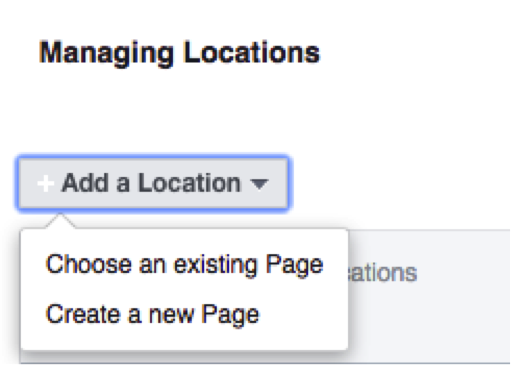 Is this right for your business? If you have multiple locations with different hours of operations, menus, promotions, etc, then location pages will be great to help your customers see information specific to the location they frequent. If everything is mostly handled at one office, you serve customers at their own locations, or you don't update your Facebook page, then you can skip adding location pages.
We love this new Facebook feature and are looking forward to seeing how they expand the Location offerings in the future! To learn more about creating your location pages or running location specific Facebook ads, contact the social media experts at Webhead Interactive.